Skin Cancer Risk
Do What You Love. . . Safely
Wilmington is the ideal setting for outdoor enthusiasts who enjoy activities like surfing, sailing, kayaking, golf, tennis, and running. But while these outdoor sports are great for your body, they can be risky for your skin. More than 90% of all skin cancer is caused by sun exposure, intensified by water-based activities, sweat and decreased effectiveness of sunscreen.
The American Cancer Society recommends regular skin examinations for those at elevated risk of skin cancer. This includes patients who have had any type of skin cancer or who have a family history of melanoma in a close relative.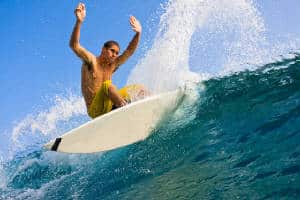 At Dermatology Associates, we specialize in skin cancer prevention and treatment. Knowing that 1 in 5 Americans will develop skin cancer in their lifetime, our goal is to detect growths at an early stage when they are the least aggressive and can be removed with minimal invasion. The most dangerous skin cancer, melanoma, is on the rise and early detection carries a much better prognosis.